WHAT IS SEO MARKETING?
Search engine optimization (SEO) is the process of getting free traffic back to your website through a search engine. There are various search engines – Google, Bing and Yahoo. They all have algorithms that crawl websites to decide how they are going to be ranked. SEO marketing understands those algorithms and creates content to meet the criteria for high rankings. When a web page gets a high ranking, it's increasing the probability for getting seen by a target audience.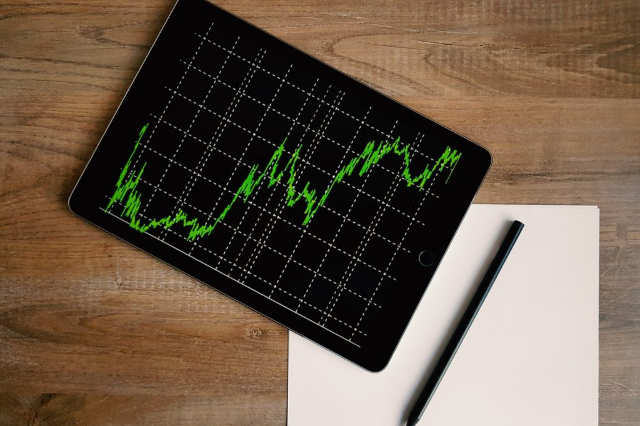 THE BUYER'S JOURNEY
Users simply don't look for information about a product or service the same as they used to. They now have all the buying power, so the sales funnel has changed dramatically. SEO plays a big role in how users will find their information by where they are at in the buyer's journey.
TIPS AND TECHNIQUES
Algorithm updates and changes in searcher behavior can make it challenging for those who are in SEO or new to it. These tips and techniques should help you to keep a pulse on what's going on in the world wide web.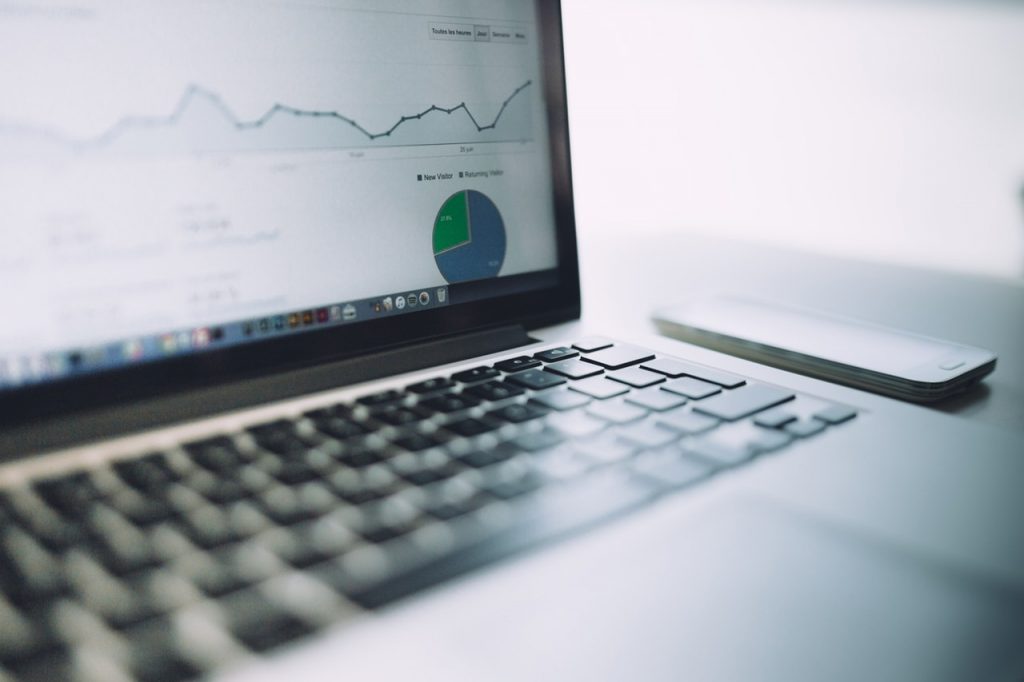 POPULAR TOOLS
There are many SEO tools available – free and paid. Here are the top five SEO marketing tools found useful when conducting optimization on websites.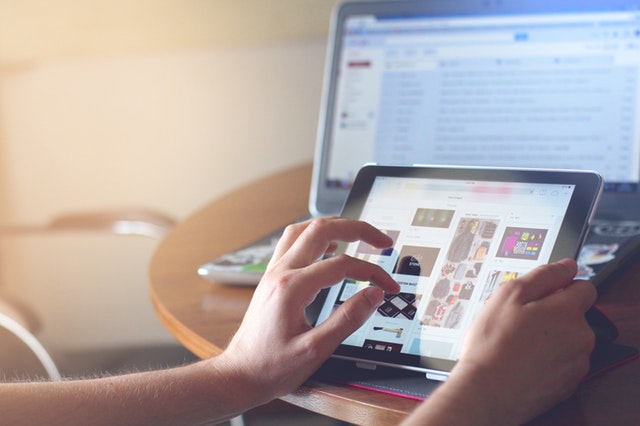 ARTIFICIAL INTELLIGENCE
With the ability to collect data, analyze it, apply it and then learn from it, digital marketers are going to need to step it up. It is becoming increasingly important for SEO marketing to include relevant content resources around a topic.
REVIEW YOUR AUDIENCE:
Larger companies have the luxury of having market research departments, but that's not always the case. There are a number of tools and analyst firms out there to conduct market research. While analyst firms tend to charge for their research reports, many industry analysts blog. Their posts could be beneficial for finding trends with your audience.
Also, don't limit yourself to only one demographic. Branch out to learn more about related niches to gauge the interest of your product or services. Not only does this help you from an overall marketing standpoint, but it also helps you to target organically. For example, it is harder to compete with big-box stores online that have high domain authority and brand recognition. When you find a niche that your competitors don't have, it will help you to stand out, especially when it's a niche that applies to your audience.
PERSONA TARGETING
The customer persona is a tried-and-true tactic used by many companies to better conceptualize demographics. While some companies will name their personas by a generalized character, Marcom Content by Ashley, LLC ℠ (MCA) first creates the persona by the type, such as "engineer." Then, they'll build out those characters after niches that align under engineer.
Customer personas can be created doing research, surveys and interviews of your target audience. Some general questions to ask include:
What is your title and job role?

How is your job performance measured?

What skills do you need to do your job?

What knowledge and tools do you need to do your job?
During your research process, you'll want to find information about their job role, company goals, challenges, personal background and buying preferences. You'll want to look for patterns and trends to develop at least one primary persona while making sure you share it with the rest of your company. At this stage, it's very important to make sure you have buy-in and understanding on why you are going to target that specific audience persona.
Make sure to get permission to use the interview information in your marketing efforts. For example, you could receive some real quotes that exemplify concerns that your products address. This is where marketing can really help sales. By creating internal sales tools that show what the personas are saying and why, they'll be able to better sell your products or services.
Marketing should always own the message while collaborating with internal stakeholders. The research should paint a picture of how your audience wants to be addressed. After you are able to outline the types of personas you found during your research, make sure to give them a name, such as the following:
Yoga Teacher
Connie – a mindfulness mama who is finding her inner Zen while parenting and living a healthy lifestyle.
Kim – an urban creative millennial who wants a stress-free lifestyle and lives more for the moment.
MANUFACTURER BUILDS BUSINESS THROUGH INBOUND MARKETING
On average, it takes six months to start seeing results from optimization efforts. That number is determined by the amount of online competition in your marketplace. Some industries, such as manufacturing, can receive faster results. The below numbers are from a popular flooring manufacturer who embraced inbound marketing to the fullest in 2018.
776
---
NEW & QUALIFIED LEADS
168%
---
INCREASE IN ORGANIC TRAFFIC
158%
---
INCREASE IN EMAIL TRAFFIC
467
---
NEW EMAIL SUBSCRIBERS
BUILD A KEYWORD TARGETING STRATEGY
Now that you have your personas, you'll be able to conduct keyword research by what each persona would enter into a Google search. Start by listing out as many keywords and search queries you can see your customer personas entering into search. You'll want to prioritize these keywords to help organize your efforts.
Moz Keyword Explorer is a great keyword research tool as they use a scoring system to rate the level of difficulty it is to rank. The Google Keyword Planner is another tool that's great for looking for keywords. However, keep in mind that those keywords are generally used in Google Adwords, meaning that you could be missing out on keywords to rank for organically.
Moz's tool uses a priority score, which combines click-through rate and ranking probability. The higher your priority score, the closer you are to finding a high search volume term with low difficulty – the sweet spot. You want to get a keyword that is easier to rank for while getting all that traffic back to your website.
Another note to consider is that not every industry has high search volume keywords. Therefore, you'll want to use some common sense when conducting your keyword targeting strategy. It is best to align to what a user is expecting to get from your web page as opposed to what has the highest volume.
There should be one keyword that you target per web page. If you have multiple web pages on your website with similar meanings, choose one of the keywords to target. It is not good to have multiple pages competing against each other for rankings. Internal competition between web pages should be avoided because it can result in the swapping of result pages for a particular search term or pages being omitted entirely by Google because they seem too similar.
CREATE YOUR CONTENT CLUSTERS
Keyword clustering will help you to perform better SEO marketing. It helps you to look for themes in keywords for creating different topic groups. When conducting keyword research, you'll see that there are different variations of keywords or that there are different keywords with similar meanings. By creating clusters, you are avoiding having internal pages compete against each other for rankings. It will also help you to keep track of your content development efforts. After all, Google loves quality content.
If you outline your keywords similar to how you create campaigns in Adwords, it will help you to see the trends. For example, paid search marketers will look for similar topics when creating ad groups. This way, the ad copy will target all these users entering in different variations of the same topic. They will not have competing ad groups. The same principle is true for organic content development. If you can see how content is developed holistically over organic and paid search, you'll be a better SEO marketer.
CONDUCT BASIC ON-PAGE OPTIMIZATION
The importance of on-page optimization can be debatable depending on who you're talking to within the SEO marketing world. MCA can tell you from experience that domain authority does factor greatly into your rankings, which can be determined by the amount of quality inbound links. This is considered off-page optimization, which can be largely boosted by your media relations efforts. MCA doesn't refer to mass press release distribution but to quality relationships with leading industry publications for getting unique coverage.
Nevertheless, basic on-page optimization is still important. After all, how are the Google robots going to know what your pages are about if you don't approach them from a strategic on-page optimization standpoint. Optimizing specific parts of your web page is key to boosting your page's rankings.
Here are some elements to look for when conducting your optimization:
Page title

Meta description

Header tags (H1, H2, etc.)

URL

Internal Links
Despite all your on-page optimization efforts, the most crucial part of SEO marketing is focusing on delivering high quality and informative content to your audience.
Content is the reason search began in the first place.
PROMOTE YOUR CONTENT
Always create content for the searcher and not for the search engines. In fact, Google first launched the search engine to organize information and make it universally accessible. Your content should be useful and relevant to the user. This is why persona targeting is so important. SEO marketing requires a strong understanding of the audience to generate ideas for insightful and educational content.
One of the easiest ways to promote your content is through social media. Promote through social media marketing tools to manage your time while making sure you are posting to be engaging and not be promotional. In your post, let the user know why they should read the blog post by letting them know how it's useful information.
Another way to promote your content is through influencer marketing. By leveraging influencers who already earned the trust and respect of many followers can be effective for expanding your reach. However, keep in mind that your ability to leverage influencer marketing may depend on your budget. For example, there are Instagram influencers who promote products and services for thousands per post.
LEARN IF SEO BEST PRACTICES HAVE REALLY CHANGED THAT MUCH BY LISTENING TO THE BELOW PODCAST:
Services and Platforms
Because of the digital revolution, users look for information differently. This may seem like common sense, but you'll be surprised at how people are still targeting their audience by an old school methodology. Users now have all the buying power, so they conduct the research themselves before contacting a sales person. Today, companies must use more marketing than sales to bring users down the funnel. Sales comes in with a more direct approach and marketing does the lead nurturing.
By applying the buyer's journey into SEO content, marketers can create content maps within the stages of the funnel. Marketers can create targeted content by incorporating purposeful keywords that meet the search intent for that intended stage. When this is done correctly, SEO marketers can create targeted content designed to move leads through the buyer's journey on a company's website.
The way this is done will be different for B2B versus B2C. The way that you'll develop interest and help the buyer to gather information will be different depending on your industry. Nevertheless, the methodology is still the same.
A web user can enter a company's funnel at any stage, which consists of awareness, interest, consideration, intent, evaluation and purchase. Because of SEO, users can come to any web page at any time. Since every web page has a purpose, every web page should be targeting a stage within the funnel.
Google's RankBrain
technology uses machine learning to understand the meaning of the content it crawls.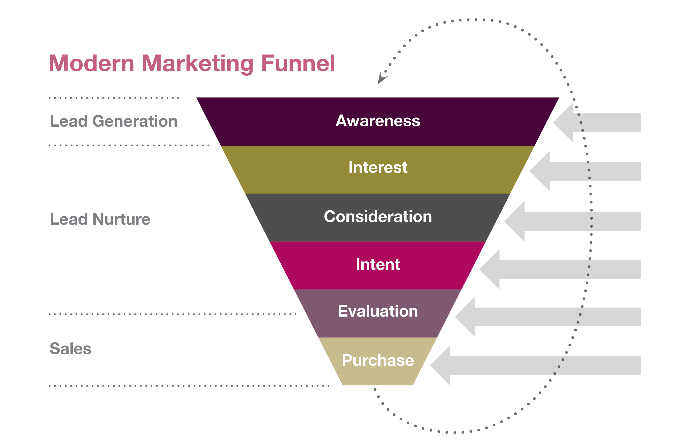 This algorithm is listening and learning from what it is crawling. Every SEO marketer should be factoring in search intent for why that target persona is using that particular keyword.
If your website is not designed to meet the stages within the modern-day funnel, it will be hard for you to convert your customers. In fact, a user can stay in the interest stage for a while, which is why there needs to be a lot of touch points to establish that credibility and build that relationship before the user goes to the consideration stage.
Even more, a user can enter at the consideration stage without even being in the awareness stage on your website because of the type of keywords they put into Google. This is why your web design is very important because it should help you establish trust by showing off your credibility. As SEO marketing continues to evolve, it's a must for digital marketers to think creatively about their content to target specific personas by where they are at in the funnel.
70 percent of The Buyer's Journey is complete before a buyer even reaches out to sales.
A MARKETING STRATEGY FRAMEWORK
The buyer's journey is an important framework for any marketing strategy. The way marketers harness this knowledge by leveraging SEO to create campaigns centered around the customer lifecycle will be dependent on their ability to look at marketing holistically.
ARTIFICIAL INTELLIGENCE
Artificial intelligence (AI) and digital marketing are beginning to come together. With the ability to collect data, analyze it, apply it and then learn from it, AI is really transforming digital strategy. When a SEO marketer is creating content that is relevant to the user, that user is most likely to convert. AI is helping with that as it collects data and decides which content is the most used based on your audience's location, historical data and past behavior.
A Google is putting AI first, and SEO marketers need to start factoring that into their strategy. People are drawn to the application of AI that can mimic human interactions. AI is making search more human, which is why digital marketers must understand the modern-day funnel and search intent.
Search intent is defined into buckets – informational, navigational, transactional and commercial investigation. Marketers must carefully look at the keywords they are using on their web pages to make sure they are meeting that target persona's reason for the search. The buckets of search intent mean the following:
Informational – used to educate the user.
Navigational – used to find a specific website.
Transactional – used to find the best purchase.
Commercial Investigation – used to investigate an item to buy.
AI is used to better interpret the content for users' search queries. Google's RankBrain technology pulls out similar themes and multiple phrases to provide the best results to users. Therefore, it is becoming increasingly important for SEO marketing to include relevant content resources around a topic instead of creating a strategy driven by optimizing a page based on a series of chosen keywords.
LEARN MORE ABOUT AI AND THE FUTURE OF MARKETING BY WATCHING THE BELOW WEBINAR:
SEO AND VOICE SEARCH
There has been a lot of talk about voice search within SEO. While voice search is disrupting text-based searches, AI is taking it to another level. AI is leveraging natural language processing to enable voice search. So as Google tries to perfect AI and voice, it's even more important to perfect basic on-page optimization.
Expectations are high and users want to find on-hand, quick and relevant information, which is why voice search is so popular. Marketers can capitalize on voice search by taking advantage of their FAQ and Q&A pages. This approach will resonate more with a user conducting an AI device search.
Google search will always happen, and quality content will always be needed. The piece that is really changing for SEO is how the search is being conducted. Instead of using search engines directly, users are asking questions to third parties like Alexa, Siri and Google Assistant. These third parties engage directly with their corresponding search engine to provide a response and an answer to the user's question. Search is the intelligence platform powering intelligent agents – that's the change.
When SEO marketers understand how people are engaging with AI, they'll get better at optimizing a website for it. Conversational keywords are different than text-based keywords. Searches that are text-based range from one to three words while conversational keywords are complete sentences.
There is now an opportunity to target long-tail keywords since they are more relevant to search. This opens doors for organic and paid marketers to bid for cost-effective keywords and massively increase rankings, discovery and conversations from voice search. Therefore, the content needs to cater to this new kind of search. While the quality and frequency of new content determine rankings, the ways it's presented need to change as marketers target voice search users.
Voice search enabled by AI is helping companies to focus on building relationships with their marketing efforts. Companies need to make a connection with their audience by providing meaningful conversations. SEO is helping them to do just that by providing the conversational-based keywords needed to answer their audience's questions within their content.